Thrive! October 2022
A Focus on: Industry Partnership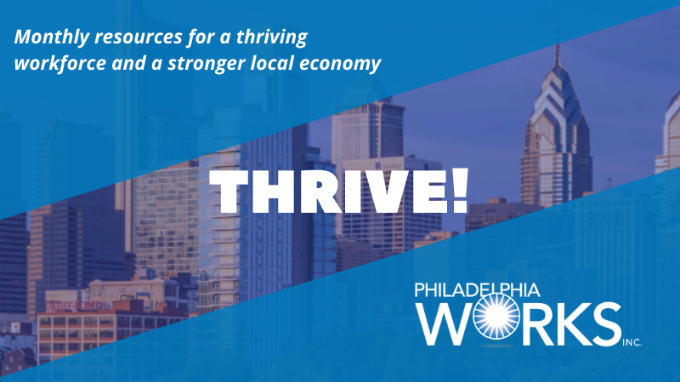 A Message from our President & CEO
Never Grow Alone: Industry Partnership
Employers are vital stakeholders in the economy. They create jobs and drive innovation and growth while providing essential goods and services. Yet, despite their importance, employers often don't have the time or resources to fully understand and engage with the public and community services that can help them meet their recruitment, retention, and sustainability, and growth needs.
That is where Industry Partnerships (IPs) come in. Industry Partnerships are public-private convenings of employers, economic development organizations, and education & training providers to identify and meet the needs of businesses in a particular region or industry.
Through Industry Partnerships, businesses can:
Establish their workforce, education & training, and economic development needs.
Coordinate regional support teams.
Identify public and community resources.
Determine opportunities for collaboration.
Philadelphia Works is witness to the power of IPs. In our respective workforce space, we manage three employer-led IPs – advanced manufacturing, hospitality and entertainment, and logistics and transportation. The collaborative work of these IPs is a powerful testament to what is possible when we come together with a collective resolve for progress, ultimately strengthening our economy to benefit all.
If you are a forward-thinking industry expert or operate a business and looking for a space to collaborate, learn, and grow, I encourage you to explore the many IPs supported by the Commonwealth. When you join an IP, you'll never grow alone.
Yours in service,
H. Patrick Clancy
Monthly Workforce Focus
Industry Partnerships in Manufacturing
Lisa Johnson, Industry Partnerships Specialist for Philadelphia Works, joins "Real Talk about Real Trends in Workforce" to discuss what an industry partnership is and to talk about her role at Philadelphia Works. You'll learn about the Southeastern Pennsylvania Manufacturing Alliance (SEPMA) and the benefits of SEPMA for employers. Lisa also reveals some of the biggest challenges currently facing the manufacturing industry and the efforts that are underway to strengthen the manufacturing talent pipeline.
Data & Trends
Current Labor Market Conditions: Monthly Updates for Philadelphia
This quarterly report offers insight into key measures of economic activity, providing leaders across public and private institutions an easy-to-access update on Philadelphia's economy.
Using the latest available data, this quarterly update offers insight into Philadelphia's labor market, industry mix, and economic development.
For Businesses
Industry Partnerships: Let's Build a Stronger Workforce Together
Industry Partnerships bring together employers, workers and job training providers from a single industry sector to collaborate on improving the industry's competitiveness and address common workforce needs. Including:
Logistics and Transportation
Learn more by contacting Tim Smith (tsmith@philaworks.org), Manager of Industry Partnerships & Business Engagement.
For Career Seekers
Philly WINs & Dislocated Worker Grant Program
Philly WINs is part of the NextGen Project. This national study is testing new and enhanced employment services for
people facing complex employment challenges.
What services does Philly WINs offer?
• Connections to well-paid, full-time jobs
• Hands-on skills assessment
• Help with transportation, childcare, state-issued ID, and other resources
• Ongoing support at the job site
Learn More: Download the Flyer
The U.S. Department of Labor and the CAREER Dislocated Worker Grant are offering extra support for anyone eligible to receive unemployment benefits. If you or someone you know has recently exhausted their unemployment benefits or has been laid off within the last year, your local PA CareerLink® can help.
Contact a PA CareerLink® representative by emailing careerdw@pacareerlinkphl.org or by calling 1-833-750-JOBS (5627).
Eligible recipients can receive:
Extra help such as rental and transportation assistance
Career coaching
Financial assistance for education and training

ICYMI: News & Events
National Apprenticeship Week & Giving Tuesday
National Apprenticeship Week (NAW) is a nationwide celebration established by the U.S. Department of Labor to bring together leading businesses, labor, education, apprentices, and other critical partners to showcase the impact Registered Apprenticeship programs have on building the American workforce, as well as highlight the successes and value of Registered Apprenticeship for re-building our economy, advancing racial and gender equity, building a pipeline to good, quality jobs, and supporting underserved communities.
Apprenticeship PHL, a public/private collaborative of cross-sector stakeholders advancing apprenticeship as a powerful engine for regional prosperity in Southeastern Pennsylvania, will celebrate National Apprenticeship Week.
Celebrate NAW with Apprenticeship PHL
Follow Apprenticeship PHL on Facebook, Twitter, and LinkedIn.
Partnership is the backbone of everything PhilaWorks does. We lead Industry Partnerships benefiting 100+ employers, support more than 1,000 unique local employers to find innovative business solutions, and invest in more than 100 partners across the city to serve residents. Donations to Philadelphia Works will support mission-critical activities and innovations that help maintain and expand current initiatives as well as cover gaps not funded by other sources.
Save the Date: #GivingTuesday is November 29!
We're proud to be a part of this global celebration of giving.