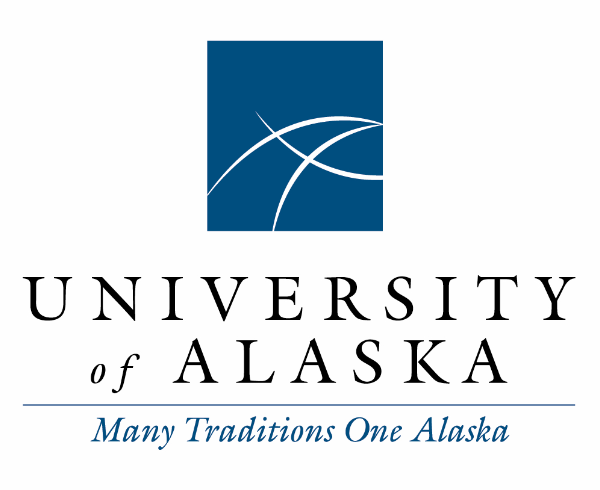 UA News for October 9, 2023
In today's news: Brianna Rick, a Postdoctoral Fellow at UAA's Alaska Climate Adaptation Science Center writes about new research identifying glacier-dammed lakes in Alaska that have records of outburst-floods, and the high probability that more such lakes will be created as glacier loss accelerates; Indigenous Peoples Day events are being held at UAA, UAF and other communities across the state; Marilyn Nashalook, a UAA psychology student, was named the recipient of the 2023 Tim Towarak Memorial Scholarship by the Bering Straits Native Corporation; UAF hockey lost their season opener against No. 4 University of Denver 7-3; more coverage of the successful September drone flight between the Nenana and Fairbanks airports - an important step in developing a new drone-based air cargo delivery industry; UAF runner Rosie Fordam won the San Francisco State Invitational cross country race on Friday; and the development of statewide reading standards for Alaska Native languages is an important step in continuing efforts toward Alaska Native language revitalization.
Email mmusick@alaska.edu to suggest people to add to this daily news summary.
Glacial lake outburst floods in Alaska and the Himalayas show evolving hazards in a warming world
Published Oct 9, 2023 by Brianna Rick
Glacial lake outburst floods have destroyed homes, infrastructure and human life around the world. They have killed hundreds of people in Europe and thousands of people in both South America and central Asia. Globally, an estimated 15 million people live downstream from these lakes, with those in Asia's high mountains at greatest risk.
In a new study, we identified 120 glacier-dammed lakes in Alaska, 106 of which have drained at least once since 1985.
These lakes have collectively drained 1,150 times over 35 years. That is an average of 33 events every year where a lake drains its contents, sending a pulse of water downstream and creating potentially hazardous conditions.
Our study found that, as a whole, glacier-dammed lakes in Alaska have decreased in volume since 1985, while the frequency of outbursts remains unchanged. This suggests a regional decline in the potential hazards from glacier-dammed lakes because less stored water is available, a trend that has been documented for glacier-dammed lakes worldwide.
Glacier loss in Alaska is accelerating as temperatures rise. Due to the large volume of glaciers and the many intersecting valleys filled with ice in Alaska, there is a high probability that new lakes will develop as side valleys deglaciate, introducing new potential hazards.
Readership
11,278,269
Social Amplification
0
View full article analysis
Indigenous Peoples Day events happening around Anchorage
Published Oct 9, 2023 by Anchorage Daily News
On the University of Alaska Anchorage campus, the university's residential life department is hosting an Indigenous Peoples Day potlatch from 5 to 7:30 p.m. Monday at Gorsuch Commons, Room 107, with food, games, music and storytime. Before the potlatch, UAA's Alaska Native Studies department is hosting a lecture by professor Maria Williams on the Tlingit clan system at Rasmuson Hall, Room 101.
UAA also hosts an Indigenous Peoples cooking and storytelling series that runs each Sunday through Dec. 10, from 5 to 11 p.m. at Gorsuch Commons, Room 104.
Other cities in Alaska will host Indigenous Peoples Day celebrations as well. The University of Alaska Fairbanks is hosting a number of events at its campuses statewide, including in Bethel, Nome and Fairbanks.
Readership
834,739
Social Amplification
5
View full article analysis
BSNC Announces 2023 Tim Towarak Memorial Scholarship Awardee
Published Oct 8, 2023 by Media
BSNC is excited to announce Marilyn Nashalook of Unalakleet as the 2023 awardee of the Beringia Settlement Trust (BST) Tim Towarak Memorial Scholarship. This scholarship is a $10,000 merit-based competitive scholarship awarded annually to one high-performing student enrolled in an accredited college or university. The scholarship honors the late Tim Towarak, who worked tirelessly to advocate for Alaska Native people.
Marilyn is a senior at the University of Alaska Anchorage (UAA) where she studies psychology. She chose psychology as a means to positively impact as many people as she can — and it's a profession that will make her family proud. Marilyn says it hurts her to see others in pain, so she is empowering herself to help those in need.
Fluent in French, Marilyn has earned the Seal of Biliteracy for the language. Always an ambitious student, she has accumulated a 3.94 GPA in her time at UAA and earned her multiple spots on the Dean's and Chancellor's lists. Marilyn's desire to help others shows through in her long history of volunteering, which includes food prep for St. Patrick's Church and the local food bank, as well as assisting with numerous student events at Anchorage schools.
Readership
5,111
Social Amplification
0
View full article analysis
| | |
| --- | --- |
| Fairbanks Daily News-Miner | |
UAF handed 7-3 defeat by Denver in season opener
Published Oct 8, 2023 by Caleb Jones
The University of Alaska Fairbanks Nanooks opened regular season play at home against the No. 4 University of Denver Pioneers. It was a strong showing for Denver as they cruised to a 7-3 win.
Both teams entered the season with high expectations. Denver is looking to win their NCAA leading tenth national championship, while Fairbanks is attempting to make a push for the national tournament after falling just short last season.
Readership
70,470
Social Amplification
14
View full article analysis
UAF's ACUASI program successfully flies drone from Nenana to Fairbanks in milestone development
Published Oct 7, 2023 by Adrian Peterson Adrian Peterson
In early Sept. the Alaska Center for Unmanned Aircraft System Integration or ACUASI, flew a drone from the Nenana Municipal Airport to Fairbanks International Airport, making it the first ever drone flight involving two classes or air space.
Autonomous vehicles and delivery drones appear to be on the horizon with cars, aircraft, and watercraft all integrating autonomous technology. As this technology develops, the impacts will undoubtedly provide significant developments in the world of air cargo delivery, which is something Alaska has a critical need for.
"So as we're looking at pilot shortages and the fact that we're not getting fruits and vegetables to the villages on a routine basis. We're looking for how can we supplement the current air cargo activities here in Alaska," said Dr. Cathy Cahill, the director of the ACUASI program at the University of Alaska Fairbanks.
Dr. Cahill and the ACUASI program have been conducting experimental flights such as this to improve delivery to rural Alaska.
Readership
39,104
Social Amplification
10
View full article analysis
| | |
| --- | --- |
| Fairbanks Daily News-Miner | |
UAF's Fordham wins San Francisco State XC race
Published Oct 6, 2023 by Gavin Struve
The University of Alaska Fairbanks' Rosie Fordham won the women's San Francisco State Invitational cross country race on Friday. The junior's victory came in a season-best time of 21:25 over 6,000 meters.
It was the second win of the season for the Aussie who has finished as the Nanooks' top runner in each of the three races she's contested this year after being UAF's third runner for much of last fall. Kendall Kramer finished 4th for the Nanooks (although the runner-up was an unattached athlete who did not contribute to team scoring). Meanwhile, Delainey Zock held her own as a middle-lineup scorer, finishing 18th in a field of nearly 150 runners.
However, UAF's third star, Naomi Bailey, did not race for the second-straight meet. That left Teegan Silva (58th) and Sarah Baum (77th) as scorers who were too far back for a team that is heavily reliant on the top of its lineup minimizing points. As such, the UAF women finished 5th of 14 teams but beat a couple of Division I schools — San Jose State and UC Davis.
In addition to Bailey, freshman Tabitha Williams — who has been UAF's fifth-best runner heading into this weekend — did not race. So the Nanooks were not at full strength.
Readership
70,470
Social Amplification
0
View full article analysis
Alaska seeks to create statewide reading standards for Native languages
Published Oct 6, 2023 by Claire Stremple, Alaska Beacon
The Alaska Department of Education and Early Development is seeking a specialist in Alaska Native language education to create state standards for reading in Alaska Native languages for students from kindergarten through third grade.
Currently there is no standard to gauge reading competency in Alaska Native languages. State law allows for reading instruction in Alaska Native languages, but without standards it is difficult for school districts to communicate progress to the state government. Education officials say the standards will support Alaska Native language instruction in the state.
X'unei Lance Twitchell, a professor of Alaska Native languages at the University of Alaska Southeast and the chair of the Alaska Native Language Preservation & Advisory Council, said the standards will be an important step in normalizing the languages in state education.
Twitchell said potential next steps could include requiring a semester of an Alaska Native language to graduate from high school or have a teaching certificate in the state.
Readership
834,739
Social Amplification
40
View full article analysis
You are receiving this newsletter because someone in your organization wants to share company and industry news with you. If you don't find this newsletter relevant, you can unsubscribe from our newsletters