Thrive! February 2023
A Focus on: Youth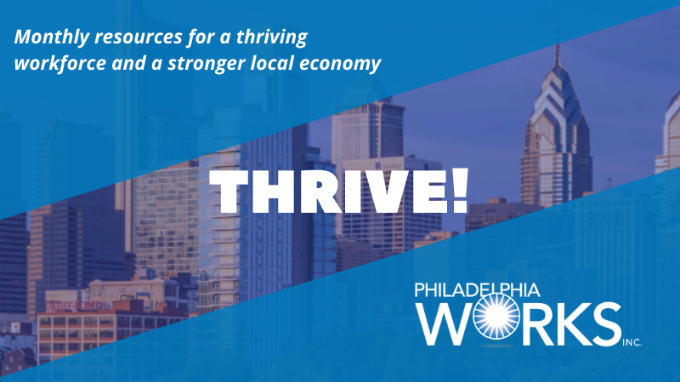 A Message from our President & CEO
Harnessing the Power of Youth
In February, PhilaWorks turns its focus to the youth and young adults in our local workforce. We believe that the youth investments we make have long-lasting and positive impacts on the community and the economy at large. Each year, Philadelphia Works invests millions of dollars into programs and innovative workforce solutions to ensure that young people have access to opportunities, can safely explore careers, earn wages, and gain the professional experiences that prepare them to walk into their purpose.
Youth and young adults have unique strengths that make them well-suited for today's workplace:
They're dynamic

: Youth and young adults typically have a dynamic view of life. They're open to change and new experiences, which makes them apt candidates for rapidly evolving industries such as technology, finance, healthcare, and marketing.

They're energetic

: A youthful perspective is often associated with high energy levels. Businesses can harness this energy creatively for sustainability and growth.

They're curious

: Many youth and young adult entrepreneurs start their own businesses because they are passionate about something or seek a creative outlet. This curiosity remains well into their early adult years and may even increase as they become more aware of the importance of their perspective in the future of work.
Speaking of curiosity, career exploration is one of the greatest ways to learn. Young people who don't know where to start can visit our Roadtrip Nation, Brighten Your Future Hub for inspiration from real people who've overcome obstacles and have built thriving careers in Philadelphia. Additionally, Your Next Step, is an interactive resource that can help young people navigate the many resources, services, and programs available to them to support their career success.
We often hear that youth and young adults are the future and if that's true, then the time to invest in their future is now! We encourage you to learn more about Philadelphia's youth workforce system and what we do to help our young people meet their full potential.

Yours in service,
H. Patrick Clancy 
Monthly Workforce Focus
Explore local career and training opportunities
Andre Bradley, former youth system program representative for Philadelphia Works, and Janiyah West, WorkReady intern joined Power 99's radio personality Cappuchino to discuss the partnership between Philadelphia Works and Roadtrip Nation. They talked about some of the most common challenges that youth face when looking for jobs and how to connect youth to employment and training opportunities.
Data & Trends
Philadelphia's Labor Market
Defined as young adults between the ages of 16 and 24 who are neither employed nor enrolled in school, Opportunity Youth have historically been overrepresented by individuals of color as well as individuals living in poverty. This report published by PhilaWorks' data and research team highlights some of the key elements to define this data picture in Philadelphia. If you have questions after reading this report, please send them to data@philaworks.org.
For Businesses
Invest in Young People
The business community is a critical stakeholder in ensuring that young adults in Philadelphia are included in our region's economic growth. There are a multitude of reasons for supporting early work and preparation experiences for young adults including:
Building Your Talent Pipeline
Investing in the Future
Fostering Diversity and Inclusion
Practicing Corporate Social Responsibility
Businesses of any size and industry can participate!
For Career Seekers
Roadtrip Nation
ICYMI: News & Events
City & State PA's: Power of Diversity Black 100
Congrats to Michael Joynes and all of this year's honorees. A special congrats to PhilaWorks' board members and workforce development colleagues who also made the list:
Joanna McClinton - State House Democratic Leader
Austin Davis - Lieutenant Governor
Gregory Deavens - President and CEO, Independence Health Group
Sharmain Matlock Turner - President & CEO, Urban Affairs Coalition