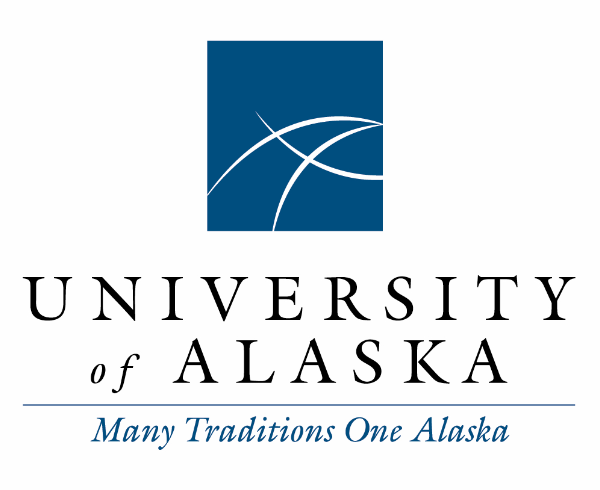 UA News for July 24, 2023
In today's news: Alaska Business writes about the end of UAA's theater department and the impact that has on stage tech training workforce needs; UAF MFA graduate (and long-time employee) LJ Evans is showing selections from her MFA show at Flossie and May's in Ester in August; UAF Cooperative Extension Service is host ing "Sitka Salmonganza" July 30 to August 1 including classes on how to use and preserve Alaska salmon; UAA professor Gregory Hartley responds to a recent op-ed, rebuking misleading claims and offering a more positive perspective on the UA System; UAF Cooperative Extension agent Gooseberry Peter shares information on controlling highly invasive bird vetch, noting it has the potential to radically alter local biodiversity; UAF hosts the World Indigenous Nations Higher Education Consortium annual forum; two Ketchikan High School students participated in ANSEP Acceleration Academy at UAA; the News-Miner ran an op-ed by the three deans of the Schools of Education on the UA Teacher Internship Scholarship and UA System teacher preparation programs; ACUASI and UAF participated in the Eielson airshow this weekend; Alaska game managers dispute a study by biologists about game management stating that it is beneficial; the University of Alaska and the state are hosting the inaugural international drone conference in Anchorage in August; funding for childcare facility and the UAF indigenous studies center is included in Federal appropriations bills that will advance to the Senate for consideration; and as a step in the process to fulfill its long-standing land grant deficit, UA Lands submitted its top request for land to the state for consideration.
Email mmusick@alaska.edu to suggest people to add to this daily news summary.
The End of UAA's Stage Tech Training Pipeline
Published Jul 24, 2023 by Scott Rhode
We're going dark!"
From center stage, Kristinne Daquis calls out the next item on her checklist, testing the lights before a preview of Dead Man's Cell Phone. The play is the season's first full production by the UAA Theater & Dance Department, and it is also the last. Ever.
"The overwhelming message of the piece," says director Brian Cook, is that "things happen in our lives—we lose our jobs, programs close down—but life continues. We're resilient people, and we move on. We find a way to recover." Cook is also the department chair, but he's moving to Colorado because his job is disappearing.
In 2020, the University of Alaska Board of Regents announced deep cuts to academic programs. UAA lost bachelor's degrees in sociology, environment and society, hospitality administration, and theater. No new students were admitted after that point, so the class of 2023 is the last to graduate with a Bachelor of Arts in theater.
Readership
6,656
Social Amplification
0
View full article analysis
| | |
| --- | --- |
| Fairbanks Daily News-Miner | |
New works by photographer LJ Evans slated for August display in Ester
Published Jul 23, 2023 by David James
Early in 2020, photographer LJ Evans was preparing to take portraits of Ester residents and their surroundings for her MFA when her plans collided with the pandemic.
Close to finishing her degree and not wanting to pause, Evans met with University of Alaska Fairbanks photography professor Charles Mason, who asked her, "What have you done photographically in the last two years that you really liked?" Her answer was far from the film and paper portraiture she had pursued her entire adult life.
A year earlier on a trip to Seattle, she explained to Mason, she had met another photographer, Melinda Hurst Frye, who takes a scanner into wooded ares, arranges foliage atop it, and with the lid open, takes a photo of the plant matter with the scanner lens. Inspired by Frye and intrigued with her work, Evans had begun experimenting with her own scanner and some dried Christmas cactus flowers when she got home.
"I put my flowers on there and just left the lid up and made sure the room was darkish," she said, explaining the process that she told Mason about that day. Because the petals weren't flattened, the resulting images have considerable depth, one that's rendered even more striking by the completely black background that resulted from the open lid in a darkened room. Mason, seeing the results, exclaimed, "That! Do that!" Evans recalled. "And it was like, BOOM! I'm off."
That project, which Evans titled "Botanicals," became the thesis for her MFA, which she was awarded by the UAF Art Department this spring. Selections from it will be on display at Flossie & May's Coffee Shop in Ester throughout August.
Readership
103,241
Social Amplification
286
View full article analysis
OPINION: Criticisms of Alaska's university system miss the mark
Published Jul 22, 2023 by Gregory Hartley
The University of Alaska seems to be a constant target of bitterness, in spite of its longstanding track record of quality, affordable education. In the latest volley, letter-writer Red Bradley responded disdainfully to UA President Pat Pitney's annual update. He did so through false claims and misrepresented facts. He also accuses President Pitney of "spin," but equally had a spin of his own — the only difference being the direction of rotation. President Pitney values the university and Bradley clearly does not.
As a professor within the UA system, I teach my students to sniff out such biases and to challenge faulty assumptions made with little or no backing support. So, listen up, students! Here's how we prevent the Information Age from degrading into the Disinformation Age.
Let's start with faulty assumptions. Mr. Bradley claimed that "an average college experience should take four years." Says who? Not the facts, that's for sure. Numerous studies show that the time to complete a degree has been lengthening everywhere, not just in Alaska. Nationwide, most students don't graduate in four years. In fact, the U.S. Dept. of Education has been using a six-year standard for the past three decades.
Readership
739,989
Social Amplification
0
View full article analysis
Bird Vetch can impact not only your yard but the entire ecosystem
Published Jul 22, 2023 by Shondiin Mayo
Although it make look pretty Bird Vetch is also an invasive plant in Interior Alaska.Gooseberry Peter from the Cooperative Extension Service at the University of Alaska Fairbanks shares how easy Bird Vetch is to recognize.
"There's eight to ten leaflets on each leaf. It has purplish flowers which are all on one side of the stock and at the end of the stock there are these tendrils which is what allows it to grip and climb onto things," explains Peter.
What can be one flower one year, can soon turn into a whole field. Bird Vetch reproduces by seed and has the ability to grow anywhere. Peter adds, "It has profound impacts on wildlife habitat. It can radically alter the structure of a native ecosystem by replacing the native plants. It reduces the native plant biodiversity. You get to the point where vetch may be one of the few things if not the only thing that grows there."
Readership
202,764
Social Amplification
679
View full article analysis
UAF hosts World Indigenous Nations Higher Education Consortium
Published Jul 22, 2023 by Shondiin Mayo
Every year, the World Indigenous Nations Higher Education Consortium (WINHEC) gathers to strengthen its presence in higher education for Indigenous students worldwide.
The consortium was established at the World Indigenous Peoples Conference on Education in Alberta, Canada in August of 2002.WINHEC acknowledges educational rights of all Indigenous people and aims to bring professionals, such as university departments, research organizations, and government agencies, together to achieve common goals through higher education.
This year, the forum is held on the Troth Yedda Campus at the University of Alaska Fairbanks.
Readership
202,764
Social Amplification
0
View full article analysis
Kayhi students attend ANSEP Acceleration Academy at UAA
Published Jul 22, 2023 by DANELLE KELLY Daily News Staff Writer
Ketchikan High School students Minh-Thu Vo and Gisele Noble participated in the 2023 Alaska Native Science and Engineering Program's Acceleration Academy from May 27 through June 30 at the University of Alaska Anchorage campus, garnering an array of educational, social and recreational experiences.
According to program information online at www.ansep.net, enrolled students are offered hands-on Science, Technology, Engineering and Mathematics modules; team-building exercises; social activities; field trips and opportunities to learn from Alaska Native and other mentors. The program is open to all Alaska students in grades 8 through 12.
Readership
9,491
Social Amplification
0
View full article analysis
| | |
| --- | --- |
| Fairbanks Daily News-Miner | |
UA Schools of Education provide quality, accessible pathways for aspiring teachers
Published Jul 22, 2023 by Amy Vinlove, Carlee Simon and Tonia Dousay
Are you passionate about becoming a teacher but need help figuring out where to start? Look only as far as the University of Alaska (UA) system (visit Teach Alaska to explore options), which offers a range of pathways to help you become certified. With the introduction of the UA Teacher Internship Scholarship, pursuing your degree in education has never been more affordable.
The UA Teacher Internship Scholarship is part of the Alaska College of Education Consortium's commitment to providing Alaskans with accessible routes to becoming teachers. Across the nation, teacher preparation programs and state policies are evolving to support aspiring teachers by offering financial compensation during their internships.
At the core of all UA initial licensure pathways is a supervised internship experience. However, many prospective teacher candidates need help when they realize that a full-time internship requires stepping down from their current job, full or part-time. Committing to a year of training means assuming the financial burden of tuition and fees, along with the absence of a salary and benefits. This quickly becomes an insurmountable obstacle.
The new internship scholarship program addresses both of these barriers. In its inaugural year, the program awarded $1.3 million to 75 Alaska teacher candidates within their final 30-60 credits of preparation. This includes undergraduates in initial licensure programs at UAA, UAF or UAS, as well as graduate candidates who hold a Bachelor's degree in a field other than education and seek certification through a post-baccalaureate pathway. The scholarship application period for the 2024-25 school year will open in January.
Readership
103,241
Social Amplification
0
View full article analysis
University, State of Alaska set to host inaugural international drone conference
Published Jul 21, 2023
Alaska's status as an innovator in drone research and application will be on full display at the Global Autonomous Systems Conference in Anchorage Aug. 9-11 at the Dena'ina Convention Center.
Hosted by the University of Alaska and the state of Alaska, the three-day conference is focused on "Trailblazing Autonomous Paths for a New World Economy."
It will highlight the rapidly developing field of autonomous systems (more commonly known as "drones") and their potential real-world applications.
The conference is sponsored by the Alaska Center for Unmanned Aircraft Systems Integration (ACUASI) at the University of Alaska Fairbanks Geophysical Institute.
ACUASI is one of the nation's top drone research programs.
Readership
52,655
Social Amplification
0
View full article analysis
Senate Committee approves three more FY24 Appropriations Bills
Published Jul 21, 2023
U.S. Senator Lisa Murkowski (R-Alaska), a senior member of the Senate Appropriations Committee, secured investments for Alaska in the Energy and Water; Transportation, Housing and Urban Development, and Related Agencies (THUD); and State, Foreign Operations, and Related Programs (SFOPS) Appropriations Act of 2024, which were approved by the committee will now advance to the full Senate for consideration.
The three bills focus on improving Alaska's energy, water, and Arctic-related projects that invest in clean power, national security, and infrastructure in rural communities, as well as measures to enhance Alaskans' access to housing and childcare while supporting vulnerable Alaskans.
Fairbanks: $5.6 million for the University of Alaska System to build a child care facility.
Fairbanks: $1.5 million for the University of Alaska System to create an indigenous studies center.
Readership
52,655
Social Amplification
0
View full article analysis
University of Alaska picks Philadelphia-sized section of Interior Alaska to own under new law
Published Jul 21, 2023 by James Brooks
The University of Alaska has begun using a new federal law to take over unused land, and its first pick is spooky.
According to a public notice posted Wednesday, the University has requested to take over about 100,000 acres near Spooky Valley, west of the Dalton Highway in the Ray Mountains of Interior Alaska. It's a stretch of land about the size of the city of Philadelphia.
The land was previously selected for transfer to the state from the federal government, and the state is preparing to relinquish that request in order to have the Bureau of Land Management transfer the property directly to the university, part of a long-running plan to fulfill the University of Alaska's federal land grant.
"We're definitely celebrating, because it's a big deal, but it's only one step in the process," said Jonathon Taylor, the University of Alaska's director of public affairs.
A clause in the $1.7 trillion federal omnibus budget law signed last year calls for the university to receive 360,000 acres of federal land before 2027.
The university is identifying its preferred options in chunks of about 100,000 acres apiece, and the Spooky Valley property is its first selection.
"We've been really grateful for support from the governor, and obviously the congressional delegation, Sen. Murkowski, but also DNR, to work through this process and work through the public process so that we can hit that date," Taylor said.
It isn't yet clear what the land will be used for. The university is planning a carbon sequestration program that preserves land from development in exchange for compensation payments. It also leases land for mining, logging and construction.
"These lands were selected for potential conveyance because we think that they are a good fit for this really large portfolio of potential use," Taylor said.
When the university does have a plan for using the land, that will be subject to a separate public notice and public discussion process, he said.
Readership
58,314
Social Amplification
0
View full article analysis
You are receiving this newsletter because someone in your organization wants to share company and industry news with you. If you don't find this newsletter relevant, you can unsubscribe from our newsletters