THRIVE! September 2022
National Workforce Development Month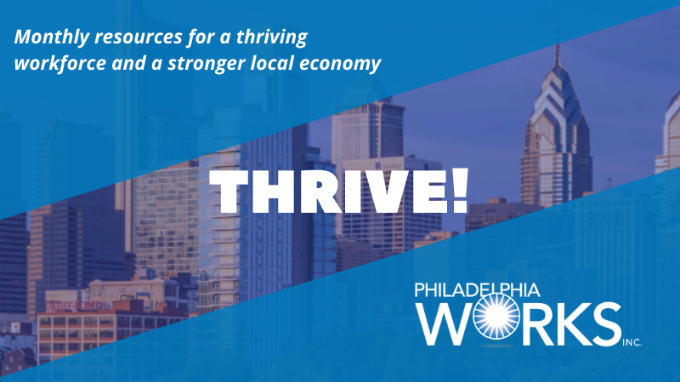 A Message from our President & CEO
Workforce Development – A Career Path Worth Traveling
September is National Workforce Development Month and an opportune time for me to share my thoughts on how rewarding a career in workforce development can be. Helping others to reach their full potential and build a better future for themselves is an incredible privilege. Through strategic leadership, innovation, education and training, workforce development professionals help individuals develop the skills they need to succeed in today's job market. They also play a vital role in supporting businesses as they seek to hire, grow, and retain talent.
I am fortunate to be a part of an industry and organization that helps people find good jobs and build solid careers. Every day, I have the opportunity to collaborate with individuals, businesses, government agencies, and community-based/non-profit organizations to advocate for policies that support employment and economic growth. We are all united by the belief that everyone deserves the capability to earn a good living and contribute to their community.
In addition to being personally fulfilling, a career in workforce development can also be financially lucrative. With the right skills and experience, workforce development professionals can earn high salaries and enjoy a wide range of job opportunities.
If you know someone who is looking for a career that is both personally and professionally fulfilling, you should talk to them about pursuing a career in workforce development. Also, let them know that PhilaWorks is hiring!
Yours in service,
H. Patrick Clancy
Monthly Workforce Focus
National Workforce Development Month
On this episode of "Real Talk about Real Trends in Workforce" Patricia Blumenauer​, vice president of operations and data, for Philadelphia Works, discusses the Good Jobs Challenge Grant, a 22.8 million dollar grant recently awarded to Philadelphia Works. Discover how the grant will fund a Coordinated Southeastern Pennsylvania Workforce Development System, and what that entails. You'll also hear about the intended impact of the grant and how to learn more.
Data & Trends
Current Labor Market Conditions: Monthly Updates for Philadelphia
The Current Labor Market Conditions dashboard provides the most up-to-date, high-level look at Philadelphia's labor market. State, federal, and private data sources help us understand how our local economy and workforce are performing over time.
The dashboard highlights overall employment estimates, labor market demand, job postings by industry, etc.
For Businesses
Support Philadelphia Skills Forward
Philadelphia Skills Forward is a multi-organization initiative that provides unique opportunities for both Learners and Employers.
Through an online learning portal, Learners can access education and training connected to three distinct learning tracks: Entrepreneurship, Health Tech and Administration and IT Customer Support. In addition to the specialized career tracks, courses that focus on digital literacy, career management, and professional skills are available.
Employers that engage with the Philadelphia Skills Forward Initiative have the opportunity to connect to talent in several ways:
Serve as a guest instructor as part of the training program
Consider participants for employment at your organization
Mentor a participant
For Career Seekers
PHL Career Portal & Dislocated Worker Grant Program
There's no time like the present to strengthen your skills and get ready for your next career move. When individuals register with the PHL Career Portal, they receive access to a free training and resource hub where they can strengthen their digital literacy skills, get help with their career exploration and job search, develop their resume, and learn how to make their professional profile stand out on networking sites.
Explore the PHL Career Portal Today!
The U.S. Department of Labor and the CAREER Dislocated Worker Grant are offering extra support for anyone eligible to receive unemployment benefits, who has recently exhausted unemployment benefits or has been laid off within the last year through local PA CareerLink® centers.
People who are eligible can contact a PA CareerLink® representative by emailing careerdw@pacareerlinkphl.org or by calling 1-833-750-JOBS (5627).
Recipients can receive the following:
Extra Help
Reemployment Resources
Training & Education
ICYMI: News & Events
Good Jobs Challenge Overview Webinar
Philadelphia Works (PhilaWorks) and the Southeastern PA Workforce Development System invite you to attend the Good Jobs Challenge Overview Webinar.
On September 28th from 9:30-11:00 AM ET, PhilaWorks, along with the three backbone organizations will host a webinar to:
Present a high-level overview of the Good Jobs Challenge proposal
Outline what to expect and communicate the next steps in the project
Introduce ways in which partners can become involved
Answer your questions
Register today to receive access to the Webinar link and passcode via e-mail! Questions may be submitted in advance to: GoodjobschallengePHL@philaworks.org.
If you can't make it, don't worry! The session will be recorded and posted on our website, along with an FAQ.