Thrive! January 2023
A Focus on: Career Pathways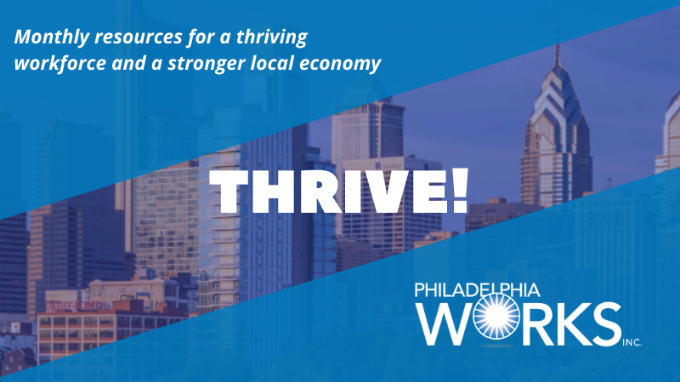 A Message from our President & CEO
To What Degree in 2023?
There is no doubt that the future of work is rapidly evolving, and Pennsylvania is leading the way. Governor Josh Shapiro understands this and has taken steps to ensure that all career seekers have a chance to be successful in today's economy.
Last week, Governor Shapiro's first act as governor was to expand jobs with the Commonwealth to individuals without college degrees. According to the Department of Labor and Industry, roughly seven million people without four-year degrees reside in Pennsylvania.
This move not only opens up new opportunities for those who are looking for a change, but it also encourages businesses to expand their reach and hire more workers who have the skills they need right now. Career seekers with minimal post-secondary education have historically been able to find employment, but this expansion will help them get closer to positions that pay a family-sustaining wage. To support the expansion, a new website was unveiled to search job openings that instructed agencies to "emphasize work experience in their hiring." Then, to further his commitment to Pennsylvania's economic growth, on January 24, 2023, Governor Shapiro signed an executive order creating the Office of Transformation and Opportunity in Pennsylvania. The newly formed office will focus on three key areas:
Economic Growth
Innovation
Job Creation
This executive order will herald a new era of prosperity for Pennsylvania workers and businesses – an era that frees businesses to invest more in themselves and their employees, grow more rapidly, create more jobs and wealth for every Pennsylvanian, and allow more of our neighbors to prosper alongside them.
Speaking personally, as an honored member of Governor Shapiro's transition team, I deeply believe in the mission that our newly inaugurated Governor and the new leadership in Harrisburg have to make Pennsylvania the best place in the nation to live, work, and raise a family.
Philadelphia Works is a proud partner in this work, and we encourage our respected workforce partners throughout the state to strategically invest in the resources that will secure Pennsylvania's future. You can learn more about our local strategy for investment by reading our newly published 2023-2024 Recovery Occupations Planning Guide.
Yours in service,
H. Patrick Clancy 
Monthly Workforce Focus
Investing in Recovery Occupations: Helping Job Seekers Connect to Well-Paid, In-Demand Careers
In this episode, you'll hear about how Philadelphia Works is investing in recovery occupations. These are occupations that are experiencing employer demand, show promise for future growth, pay livable wages and are accessible to workers with diverse educational and employment backgrounds. You'll also learn about the Recovery Occupations Planning Guide and how the guide provides detailed information on each recovery occupation, including wages, required skills and certifications, top industries of employment, and more.
To access the Recovery Occupations Planning Guide, visit: https://philaworks.org/recovery-occupations-2/
Listen to the Full Episode Here
Data & Trends
Philadelphia's Labor Market
The Current Labor Market Conditions dashboard provides the most up-to-date, high-level look at Philadelphia's labor market. State, federal, and private data sources help us understand how our local economy and workforce are performing over time.
The dashboard highlights overall employment estimates, labor market demand, job postings by industry, etc.
For Businesses
2023-2024 Recovery Occupations
As Philadelphia's Workforce Development Board, Philadelphia Works manages strategic investment of federal, state, local and private funding into job training and employment programming throughout the city and Southeastern Pennsylvania region. While our community navigates economic recovery from the COVID-19 crisis, now, more than ever, we are prioritizing timely opportunities in occupations that are experiencing employer demand now; show promise for future growth; pay livable wages; and are accessible to workers with diverse educational and employment backgrounds.
To drive this COVID-considerate approach forward and support city leaders and partners as they, too, work toward recovery, Philadelphia Works has identified a set of 2023-2024 Recovery Occupations.
For Career Seekers
Find Career Training
ICYMI: News & Events
RFP & Workforce180 Podcast ft. Patrick Clancy
Community Outreach and Engagement Support for
PA CareerLink® Philadelphia
Released January 3, 2023 – Seeking entities interested in outreach and engagement support for the PA CareerLink Philadelphia system to highlight resources available to targeted areas of Philadelphia specifically those experiencing the highest rates of chronic unemployment. Proposals will be accepted through Monday, January 30, 2023, at 5:00 PM ET.
To ensure Philadelphia Works maintains an open competition process, all inquiries regarding this RFP must be submitted via email to workforceoperationsrfp@philaworks.org.
View the Full RFP and Get Started Here
If you took a 180 degree turn on the way you look at work, what could you uncover? Join the team at Workforce180 as they flip the switch on how we think about, interact with, and develop our nation's workforce. Whether you want to shape the careers of others, or enhance your own, this podcast will put your perspective in motion.
In this Follow the Leader episode Patrick Clancy, President and CEO of Philadelphia Works, joins Workforce180 CEO Mike Fazio for a conversation about his career journey and some new grants that will help grow the economy in Philadelphia in 2023.
You are receiving this newsletter because someone in your organization wants to share company and industry news with you. If you don't find this newsletter relevant, you can unsubscribe from our newsletters