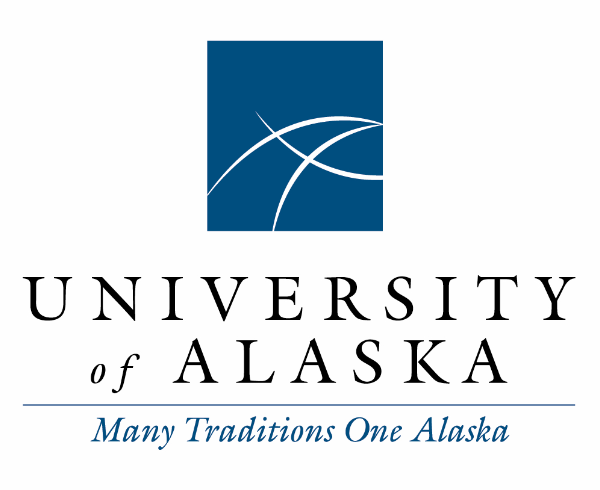 UA News for April 10, 2023
In today's news: read an interview with Dr. X̱'unei Lance Twitchell from UAS about his journey into Indigenous language revitalization; the launch of the 2023 Tidal Echos publication was held at UAS on Friday; two UAF staff members completed the 1000 mile Iditarod Trail on fat bikes; a decade after starting "Dark Winter Nights" UAF's Rob Prince has published a book containing 25 of his top stories about life in Alaska; the 32nd annual Empty Bowls fundraiser - including donated bowls from UAF's Student Ceramic Arts Guild - raised more than $26,000 for the Food Bank; a Boeing 727 jet formerly used by UAA's aviation program was successfully transported to Big Lake; a home explosion in Kasilof took the life of UAF research professor Stephen Okkonen; and a partnership between UAF eCampus and the Bering Straits Native Corporation will provide a 10% discount and in-state tuition to any shareholders taking college courses online.
Email mmusick@alaska.edu to suggest people to add to this daily news summary.
Keeping Alaska Native Languages Alive: Interview with Dr. X̱'unei Lance Twitchell
Published Apr 10, 2023 by Pranay Varada
Dr. X̱'unei Lance Twitchell is of Tlingit, Haida, Yup'ik, and Sami heritage and is a Professor of Alaska Native Languages at the University of Alaska Southeast. He is a multimedia artist who works in Northwest Coast Arts, poetry, screenwriting, audio, film, and photography. His studies are in creating safe language acquisition spaces and achieving revitalization through counter-hegemonic transformation, which constitutes a rejection of external definitions and fragmentation and a promotion of the thought world of the ancestors of language movements.
You have been instrumental in efforts to revitalize the Tlingit (KLING-kit) language, which is estimated to have a few hundred native speakers mainly in Southeast Alaska, the Yukon Territory, and British Columbia. What drew you to this mission, and why is language revitalization so important to you?
What drew me to it initially was learning the language. So I had always been close [with] my grandfather, and then, in 1996, when I was probably about 21 years old, he got very sick. [But] then I realized that he could speak the language, and he was the only one in my immediate family who could speak it, so we spent a lot of time together. He started to teach me a couple of words here and there, and it became something that we did together. Then I went back to school at the University of Minnesota, and I would study Tlingit, and then it wasn't too long after that he passed away. And so the language became a way for me to stay connected to him.
About that time, there was this really neat sort of confluence of events. There was a language conference called the Stabilizing Indigenous Languages Symposium, and they published the proceedings from that conference. Jon Reyhner was the publisher, and he [dropped] a box of these books off. I happened to find one of these and started reading about what was going on with indigenous languages in North America. It drew me to an interest of what was going on with our language and with language loss just in general. So I wrote a paper [about this] in [my] upper division composition class and I got a C-minus. The teaching assistant who graded it just wrote, "why doesn't everybody speak English?" And that was the only comment on the paper.
Readership
77,517
Social Amplification
0
View full article analysis
Tidal Echoes launch echoes the community spirit living within creatives
Published Apr 10, 2023
Tidal Echoes launched its 2023 publication Friday evening. It was the first time the event was celebrated back in person since the pandemic.
The launch was held in the University of Alaska Southeast's Egan Lecture Hall from 6:30 p.m. to 8:00 p.m.
Books were sold for $5, and featured artist Chloey Klawk Shaa Cavanaugh also set up a table with her merch and stickers.
Tidal Echoes submissions come from writers and artists in Juneau, Sitka, and Ketchikan.
The journal accepts submissions of prose, including fiction, non-fiction, transcribed oral stories, memoirs, dramas, and poetry of all types.
They start accepting submissions in the fall.
In addition to writing, the artwork of all mediums is accepted digitally, which allows the journal to include sculpture, painting, ceramics, photography, and drawing.
UAS Chancellor Karen Carey, who is retiring at the end of June, opened the event.
Readership
52,801
Social Amplification
0
View full article analysis
| | |
| --- | --- |
| Fairbanks Daily News-Miner | |
One-thousand miles of Iditarod trail by bike
Published Apr 9, 2023 by Jay Cable
Two staff members of the University of Alaska Fairbanks recently rode 1,000 miles across Alaska on bikes with tires fat as a loaf of bread.
Jamie Hollingsworth is a do-all field guy with the Institute of Arctic Biology and site manager of Bonanza Creek Long Term Ecological Research program. Jay Cable is a research programmer with the Geographical Information Network of Alaska at the Geophysical Institute.
From Knik (north of Anchorage), on packed-snow trails, they rode most of the way to Nome on the Iditarod Trail with Bill Fleming, owner of the Trek Bicycle Shop in Anchorage. The trio finished the journey together in 18 days, four hours.
During a human-powered journey of that length, things will not go as planned. For Hollingsworth and Cable, this included having to wait for people driving snowmachines to pack down trail for them as they hung out in both McGrath and the outpost of Ophir. The bikers were then just ahead of Iditarod dog teams and mushers, who started the race in Anchorage on March 5, 2023.
Readership
107,825
Social Amplification
916
View full article analysis
| | |
| --- | --- |
| Fairbanks Daily News-Miner | |
From stage to podcast to book, the true stories of Alaska
Published Apr 9, 2023 by David James
Ten years ago, Fairbanks resident Rob Prince went looking for real stories of how Alaskans live. Not the glorified version staged for so-called Alaska reality shows, then surging in national popularity, nor the mythological Alaska found in endless books and movies. Prince, a professor of documentary filmmaking with the Communication and Journalism Department at the University of Alaska Fairbanks, was after the everyday experiences of those who have made their lives here, lives perhaps lacking the romance of popular Alaska imagery, but nonetheless forged by the place where we live.
In 2014, Prince launched "Dark Winter Nights," a combination of live events and podcasts where Alaskans could tell those stories. With assistance from Prince in forging their narratives, contributors choose an event or experience that exemplifies their Alaska experience. Stories range from the simple joy of mundane happenings to hair-raising survival tales and everything in between, with an emphasis throughout on the human element. Prince tapped into the oldest form of entertainment, storytelling, and has encouraged everyday Alaskans, especially those in the Interior, to give it a go.
A decade later, "Dark Winter Nights" has become wildly popular in Fairbanks and has attracted national attention. In 2021, the New York Times named it the best winter podcast for storytelling lovers. Needless to say, Prince has accumulated a substantial archive of first-hand northern tales during these years, and in "Cabin Stories" he brings 25 of his favorites to the page.
The accounts in this book cover significant ground. Some are carried along by the wisdom that comes from age and experience, others by the impulsiveness of youthful arrival in the north. Encounters with Alaska found in these pages can turn comical in one tale and deadly in the next. Most fall in between, and all tell us things about Alaska as it truly is.
Readership
67,097
Social Amplification
1
View full article analysis
| | |
| --- | --- |
| Fairbanks Daily News-Miner | |
Food bank raises over $26,000 in annual fundraiser
Published Apr 9, 2023 by Courtesy of Anne Weaver
The Fairbanks Community Food Bank raised more than $26,000 during the 32nd annual Empty Bowls fundraiser on Saturday.
Residents began waiting outside the food bank at 9:30 a.m. in anticipation of the fundraiser. The Fairbanks Potters Guild, the University of Alaska Fairbanks Student Ceramic Arts Guild, and other local potters donated more than 800 handmade bowls to the event. The Quota Club of Fairbanks donated cookies, and GCI sponsored the event.
All proceeds from the fundraiser go directly to the food bank, Fairbanks Community Food Bank CEO Anne Weaver, said.
"The concept is that there's empty bowls and we have a way to fill them," Weaver said.
Weaver estimated that the annual fundraiser has brought in over half a million dollars since it started in 1991.
Readership
67,097
Social Amplification
0
View full article analysis
Cargo jet makes successful commute on Glenn Highway
Published Apr 8, 2023 by Carly Schreck
A Boeing 727 cargo jet has landed at its new home in Big Lake after making a 6.5-hour commute via the Glenn Highway. Jon Kotwicki, the new owner of the airliner that previously belonged to the University of Alaska Anchorage, purchased the plane as part of a housing project at the site of his flight training school, FLY8MA — pronounced: "Fly 8 Mike Alpha."
After days of preparation that included removing the wings, nose and tail of the aircraft, a Carlile Transportation truck hauling the massive fuselage departed Merrill Field around 9:45 p.m. on Thursday, navigating through Anchorage before heading north on the Glenn. The planned move drew a number of spectators who opted to watch the process.

Readership
385,332
Social Amplification
0
View full article analysis
| | |
| --- | --- |
| Fairbanks Daily News-Miner | |
Home explosion kills UAF professor in Kasilof
Published Apr 8, 2023 by Staff report
A long-time University of Alaska Fairbanks professor died at his Kasilof home Thursday morning from a propane leak and explosion, according to an Alaska State Trooper report.
First responders were dispatched to 69-year-old Stephen Okkonen's home on Mile 7.5 of Kalifornsky Beach Road just before 5:30 a.m.
They found the house was on fire, and a search found Okkonen dead inside the home.
Okkonen was a research associate professor at UAF and an oceanographer studying ocean currents. More recently, he was working with whale biologists on migration patterns in the Chukchi Sea.
Readership
67,097
Social Amplification
0
View full article analysis
A Message from the President & CEO
Published Apr 7, 2023 by Media
Access to educational opportunities for Our People is and has been a leading priority for BSNC. I am pleased to share that BSNC and the University of Alaska Fairbanks (UAF) eCampus have a new partnership to encourage BSNC shareholders, descendants and employees to begin or complete their college degrees online. Those individuals listed above will receive a 10% discount on all courses offered through the UAF eCampus. This partnership also opens doors for shareholders living outside of Alaska to achieve an Alaska-based education with in-state tuition rates.
For more information, please visit www.ecampus.uaf.edu/corporate-partnerships.
Readership
6,679
Social Amplification
0
View full article analysis
You are receiving this newsletter because someone in your organization wants to share company and industry news with you. If you don't find this newsletter relevant, you can unsubscribe from our newsletters